We are all watching more content these days. 
I recently wrote about 6 trends to watch in a post-COVID world, and one of those 6 that is already front and center is the future of the content and media. Just look - Netflix reported adding almost 16M new subscribers last quarter, and TikTok recently passed the 2 billion download mark - reportedly making Q1 2020 not only the best growth quarter for TikTok in history, but for any app ever.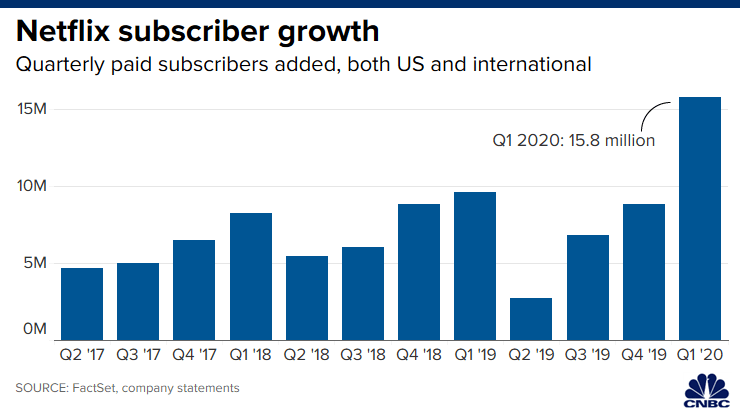 It's not just an increase in consumption on the incumbents though. Consumption is up across nearly every format and amongst every demographic. From GenZ to Boomers, people are consuming content across broadcast TV, music, online memes and videos, streaming services, and gaming. Without their go-to entertainment and social options, Americans are turning to in-home content consumption.  I recently hosted a (virtual) panel featuring leaders from Disney, Quibi, and Spotify in addition to many of the entrepreneurs who are leading the charge in painting the new media landscape post-COVID. Below are four of the takeaways from that discussion. 
Narrative + Creativity > Production Quality. 
Whether the content is COVID-related or not, appetite amongst the large media platforms for compelling stories is higher than ever, no matter the form. Especially because production has been stalled, this is a great opportunity for early-stage companies who have finished content and can get creative in selling, distributing, or partnering to get this content out to a wide audience. However, good content doesn't necessarily mean expensive sets. Take Spotify as an example: determined to hit the ground running with their recent acquisition of Bill Simmons, The Ringer, Spotify has been sending mics to podcast guests to record over Zoom, rather than going into the studio - a format that has been so effective that The Ringer has launched two new shows in the last two weeks. Nickelodeon just set the bar this past weekend as the first awards show to be hosted remotely, with the Kids Choice Awards: Home Edition -  complete with celeb speeches and their signature slime. Quibi has even launched many of their "daily essentials" shows from garages and living rooms from day one. At the end of the day, it's about reaching the right audience with quality content and the experiences they've come to expect. 
Every day looks like a weekend. 
These were the words of Spotify CEO, Daniel Ek, on the company's most recent earnings call. Unsurprisingly, consumption patterns have changed dramatically across the media landscape during quarantine. Pre-COVID, most media properties would expect a weekday barbell: spike in the morning, lull in the afternoon, and spike in the evening. Weekends would be a hump in and of themselves, with interest peaking in the afternoon. During COVID, most days follow this latter pattern. This means a world of quick pivots for content creators and content platforms to consider. 
Disney exemplifies this type of pivot with their shift to at home releases with titles like Artemis Fowl. Since the stay-at-home orders were enacted, movie watching is now an everyday activity - not just one for the weekends. And with theaters closed, releasing major titles at home is a great way to appeal to a captive, hungry audience. Spotify has also repackaged some of their content to be relevant to the moment - namely a "COVID-Hub" and "School Study Guides" for students and parents now facing e-learning. Start-ups looking to resonate with audiences during quarantine should take note to 1) rethink their launch and distribution plans to appeal to audiences at home and 2) curate or repackage their content to focus on topics that listeners are hungry for. 
Experiment now, Decide later. 
Unsurprisingly, COVID is forcing large and small media companies to get creative with everything from release dates to repurposing old content. It's a time for experimentation like none before, especially for otherwise slow corporates. We've seen everything from new types of content (a global concert broadcast across multiple networks and every streaming platform), new formats (Instagram Stripclubs?!), new tools for interactivity (fortnite concerts or zoom concert surprises), longer free trials (thanks Quibi), or new monetization schemes. That said, there is a risk to overreacting to data we're seeing percolate now - both for large media companies and nimble start-ups. Instead, now is an opportunity to measure and experiment, then measure again as life begin to normalize and make decisions that impact your company for the long-term at that point. 
Interactivity and Connectivity aren't going away. 
Although the million-dollar question is what new consumer behaviors will outlast this quarantine period, one thing is clear: interactivity and social connectivity are here to stay. Co-watching your favorite Netflix show with your cousin via Netflix Party may be an example you're already familiar with, but this type of interactivity and connectivity can take many forms. Today, Spotify has seen a 50% boost year over year in streaming via TV and game consoles as consumers build the habit of streaming from home. With Spotify one step closer to the gaming experience, what could that mean for future Spotify experiences? Likewise, Quibi is clearly thinking about titles that can incorporate the audience even as cast members, "from script to screen," if their upcoming interactive dating show, The Hot Drop, is any indication. 
Games like Fortnite are a major contributor in infusing the entertainment world with more interactivity and connectivity. Quibi dropped their reboot of Punk'd inside Fortnite at the beginning of April (via a drive-in theater within the main game arena). Fortnite has doubled down since then and just launched their "Party Royale" mode, a space in their metaverse where there is no fighting or building - only hanging out and consuming content like Diplo's concert last weekend. In a world where concerts can't occur in real life, what better place to perform than a metaverse where the artist can control every special effect imaginable AND where every viewer can be in the front row if they wish.