Last week, Zoom hosted Zoomtopia 2020, their annual virtual user conference, and with it, unveiled several major product developments. Given the new reality of remote-work, remote-education, remote-concerts and remote-just-about-everything, it's no surprise that Zoom is looking to expand its dominance as the backbone for remote communication broadly.
The two biggest Zoomtopia announcements were OnZoom, Zoom's new event platform and marketplace, and Zapps, the integration of third party applications, starting with 25 initial partners.
During the pandemic, churches, musicians, and weddings all hacked together solutions via Zoom, but now with OnZoom, the tools exist to professionally plan all of these events and more. Supporting up to 1000 guests with ticketing and marketing tools, OnZoom squarely positions Zoom to be a solution for any type of social interaction — not just work meetings.
But for those where work meetings are still the primary focus, Zapps, begins to extend the functionality of Zoom to position Zoom as the center of work collaboration. Launch partners include Atlassian and Asana for productivity, Dropbox and Box for document sharing, Slack and Superhuman for text communication, Hubspot and Gong for Sales and Marketing and even Cameo for a bit of fun.
With the reality of a remote world in the near-term, and likely a hybrid world in the long-term, I wanted to take a moment to examine where additional opportunities lie — beyond just what Zoom offers today. Over the summer, I hosted a conversation with execs Shahed Khan (Loom), Ceci Stallsmith (formerly Slack), and Sergei Sorokin (Discord) along with a group of founders leading the next generation of remote collaboration tools. Four key insights from our conversation stood out that I expect to guide innovation leading up to next year's Zoomtopia 2021
TL;DR
Zoom delivers on the basic functionality needed for remote social and work-related communication. But 4 things are true for advancing beyond the basics:
1. We need formats to make people feel more comfortable in a virtual world
2. The right medium needs to be available at the right time to deliver different types of messages
3. Virtual "infrastructure" can and should be co-created to create a sense of permanence and belonging online
4. The virtual setting can (and maybe should) look very different from the physical world
Virtual office means solving for virtual acclimation.
Key to the success of virtual office and remote collaboration tools is the capacity to make employees feel at ease, as they do in the in-real-life (IRL) office. When remote employees feel comfortable in their tools, they collaborate, drop-in, and communicate more naturally. As Shahed Khan pointed out, the social etiquette of video was established only in the last five years. And even so, many employees still feel less comfortable with video (e.g. the iPhone front-facing camera auto-flips your face, while Zoom doesn't by default). This comfort is something that Loom aims to address with casual, asynchronous video. Comfort is also perhaps exactly what Discord has always prioritized: building a product where safe spaces feel easy, casual, and friendly — not forced.
There is still some breaking through the medium we need to do. Zoom's recent updates to allow for emoji reactions, and integrated Zapps will hopefully enable more natural communication, because today, many of us still feel trapped behind the Zoom screen. Virtual acclimation will require constant presence as well as ad hoc conversations across unique mediums. So, implementing text, audio, and video tools shouldn't only be about synchronous and asynchronous communication, but also about which medium breeds the most employee comfort given the context.
In the virtual office, the medium is the message.
One piece of advice from Ceci Stallsmith to the many product-led startups at our panel: when it comes to remote tools, the medium is always the message. Whatever you communicate intrinsically changes according to what tool you use to communicate. For example, Slack knew early on that the feeling of support was better captured through Reactjis, rather than a slew of text notifications from your colleagues' Slack messages. You can imagine how a simple question asked via text vs email or, forbid, a dedicated zoom call for that one question could feel quite different. Elevating product features which humanize the medium is how you build community through tools.
what's Zoom lacking? Co-created infrastructure. 
We all know that Zoom can feel formal, stilted, and standard. It's a single use product that COVID has forced into a variety of non-professional use cases. Why? Khan, Sorokin, and Stallsmith all agreed that what Zoom lacks is a sense of permanence.
With other remote tools, teams invest themselves into creating, maintaining, and upgrading their remote collaboration space. On Discord, this looks like highly customizable rooms, where users deftly switch between text and voice. On Slack, it's the myriad public and private channels as well as a deep archive of files and messages. On each of these platforms, users invest themselves and their time into building out a permanent office domain, a record of their investment — the co-created infrastructure of a virtual team.
This is an understated product paradigm that has led to millions of new use cases for Slack, Discord, and Loom over the past few months. Many you wouldn't expect: church services, car dealership "test drives," band jam sessions, and even Vidcon. In the same way that companies spend money on a fancy office build out, the more a team invests into building out this virtual infrastructure, the more ownership and belonging they feel. We'll have to see just how far Zoom customization can go with Zapps, but the holy grail it to turn a product from a single use tool (like Zoom today), into a shared workspace and culture that you want to come back to.
What are we missing by trying to "recreate the physical office"?
Now, with everything discussed around virtual acclimation and finding the right mediums for the various interactions we have in a typical office, an important question to ask is: Should we even be trying to mimic the physical office to begin with?
A question posed to the group was "If we were released into the jungle to survive — would we really set up tables and conference room?"
Some of Zoom's updates seem to fall squarely into that "tables and conference room" trap. Zoom's new "immersive scenes" aim to recreate the physical world, laying out everyone's image in a familiar setting like a classroom or courtroom. But if you remove all constraints and start from scratch… what is possible?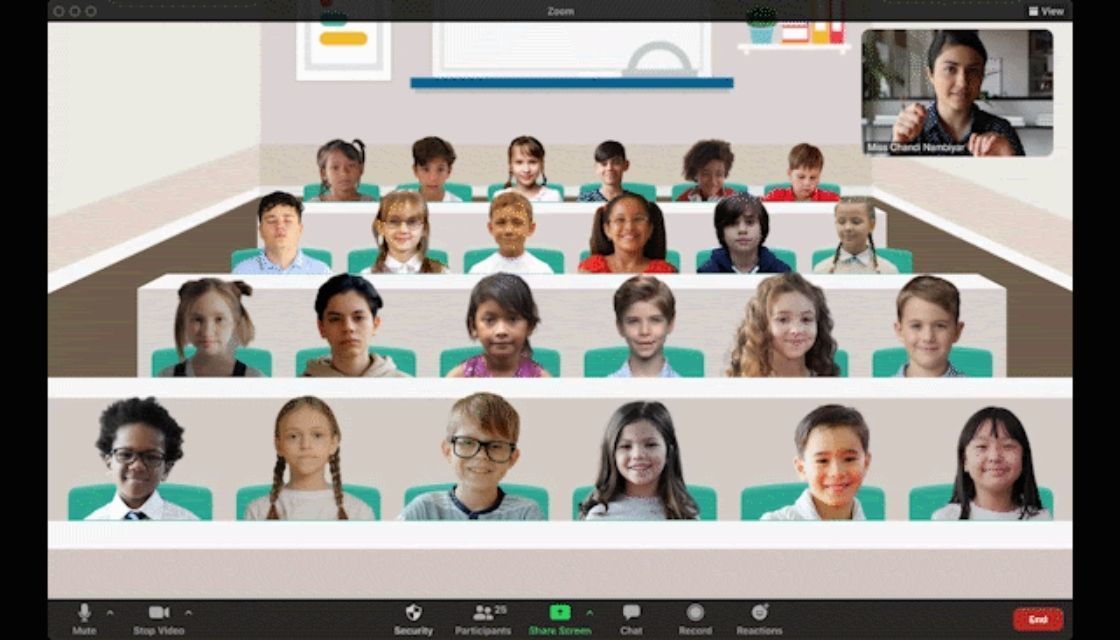 Zoom's latest "Immersive Scenes"
All seemed to agree that the future would hold some mix of synchronous and asynchronous communication (facilitated by the right medium, whether that's video, text, audio, or even AR/VR). Many also believed that we will discover completely new ways to connect as consumer behavior changes. We are hurtling towards a heavily remote future and one thing is clear: Zoomtopia is just the beginning.
Thank you to Ceci Stallsmith, Sergei Sorokin, Shahed Khan and the founders/leaders of Team CoScreen, Fireflies.ai, Spike, Hopin, Almanac, Teemyco, Not Boring, Ready, Signalwire, RemoteHQ, Spatial, Yac, A-Teams, Nuffsaid and Taskade.  
And special thank you to Aditi Maliwal, Nikhil Basu Trivedi and Jared Newman for their feedback on this post.